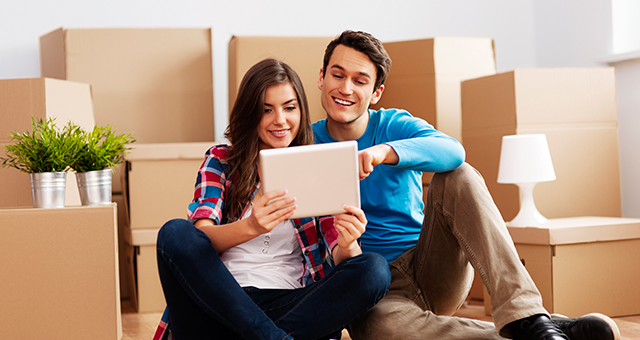 To Move Or to Stay Put: 5 Things to Consider Before You Decide
With the economy improving, many Americans are contemplating whether it is better to stay in their existing home longer or sell now. There are a variety of reasons for selling a property ranging from requiring more space to financial problems, to choosing the ideal neighborhood and school zones.
So, do you put the home up for sale and move out, or upgrade and settle in for the long haul? It is a difficult decision to make as there is no simple one-size-fits-all solution that can end this enigma once and for all.
Here are a few questions you may ask yourself to determine if you should 'sell up.' or "stay put"
1. Am I Ready To Move?
Even with major decisions like moving, many people act rashly. Therefore, before you begin the process of moving, it is usually a good idea to take a step back and examine the situation. You must think about everything including the factors that are not related to money or economy like your neighbors and facilities of your neighborhood. If you are undecided then sticking put-even temporarily is probably the best option.
On the contrary, if you are confident that you want to relocate, moving home is the only viable option. Remodeling your current home will not improve your relationships with your neighbors or bring you closer to friends, family, children's schools, local shops, or train stations. No matter how big the refurbishment is, if you are already dissatisfied with your current location, adding a new glossy extension will probably not change it.
2. What Are My Finances Telling Me?
Regardless of whether you opt to relocate or upgrade, you will require funds…and not insignificant sums! Do you have the financial means to carry out your decision?
If you decide to sell and relocate you will need to have an idea of the following figures: –
What your present home will sell for.
What your mortgage will be.
What your relocation fees will be,
What your maximum budget for the new property will be.
Many homeowners prefer to pay for a home upgrade by refinancing their mortgage. But, the additional financial burden can be significant each month, especially if it is not properly budgeted in the first place. Another aspect of renovating a home is the potential hidden costs. You can end up with a huge bill you were not expecting. And, if the project does not go as planned the costs will increase.
Therefore, the cost of the remodeling against the cost of buying a new home should be the deciding factor. Run the calculations and trust your instincts here…do not embark on a project you cannot afford.
3. How Important Is My Current Location?
If you like your neighbourhood but you need additional space, a makeover might be the way to go. There are so many factors to consider when it comes to location, and it can be difficult to find a home in an equally ideal area. This is especially true in the short term, because your memories will be greatest when you first move, but you may never learn to love your new place as much as you did your old one.
Staying in your current home and making changes is a good decision if you are close to family and friends, have good access to public transportation and local facilities, get along with your neighbors, and have everything else in place.
4. Is My Property Suitable For Renovation?
For some, this may come as a surprise, but all properties cannot be remodeled in the way the owner wants. Some are unlikely to get a building permit because they already exceed the boundaries or the proposed project does not comply with zoning regulations. You will have to find out from the local authorities if you can enlarge your present living area. While for others the home may lose its personality and charm, when renovations are made, resulting in homeowners completely falling out in love with their home.
Therefore, before making a final decision, it is important to understand what can and cannot be done. To receive professional help, speak with a property surveyor or an architect.
5. Can I Improve My Home And Then Move?
Yes, it is a viable option…and it is becoming increasingly popular. Many homeowners are currently improving or remodeling their current home with the sole goal of selling and moving to something way better.
As mentioned a while back in our blog post "Home Improvement Projects You Should Tackle to Increase the Value of Your Home." renovations can be as beneficial as putting money in your bank. If you are prepared to spend time and effort to upgrade your home to sell it will greatly enhance the value and charm of your home.
Choosing this option will improve the degree of interest from potential buyers after the work is completed and it will help you to earn enough finances to allow you to move to a better home later. If you are in a position to do so, it is worth considering.
Conclusion
As you can see, moving or improving will depend on a variety of factors. While money will play a big role in your decision, do not forget the emotional side. Some ties are difficult to cut and might be difficult, if not impossible to replace
It is important to consult everyone involved in your decision, including youngsters. As, it is a major choice and will have an impact on everyone, not just the house. Examine all of the advantages and disadvantages together to see which option is best for your family.
If you choose to move, our team will be there every step of the way. We bring that particular personal touch to each interaction to assist you in locating the ideal mortgage to fulfill all your requirements.