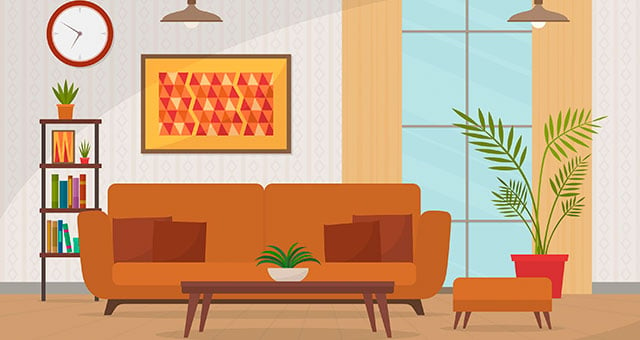 New Year, New Look: Budget-Friendly Tips to Rejuvenate Your Home's Interior
The beginning of a new year inspires us to make fresh starts. It feels like a great time to organize ourselves for the upcoming year and make some changes.
While you do not have to completely renovate your house or make a list of unrealistic New Year's resolutions, some simple solutions can lift your spirits and rejuvenate your home.
To help you get started freshening up your home in 2023, we have put together a few ideas.
1. Rearrange Furniture to Create New Spaces
A great way to spruce up your home easily and quickly is to rearrange your furniture. To furnish your home, from your private bedroom to the family living room, in new ways, challenge yourself to imagine new room arrangements. However, before moving on to larger pieces like couches and coffee tables, start by moving one or two smaller pieces of furniture in a room, like a side table or an accent table, and see if that helps change up the flow and feel.
You could also set up furniture in opposition to or against a different wall or change the locations of each piece of furniture in the rooms. When you shift your perspective, a tonne of opportunities opens up!
To perfect the use of your space, this is also a great time to get rid of worn-out furniture, refinish your old furniture, and purchase one or two new pieces.
2. Hang Photos and Artwork
A home can be transformed by art, both visually and aurally. Have fun looking through your pictures and remembering the moments. Select your favorite prints and photos, or use your creativity to create wall art using travel, landscape, and street photography. You could also mix tacked-up sketches with a few of your kids' favorite drawings in simple white frames.
Remember not all your artwork or photos need to be exhibited at once. Additionally, now is the ideal time to store or sell artwork you have grown weary of looking at.
3. Introduce Some Color
Adding a splash of color is among the simplest ways to refresh your home. Throw pillows and other colorful accent pieces work will make any place vivid and lively. Another way to refresh your home is by using the fitted couch and chair covers to update worn-out upholstery. You could also add an attractive table lamp.
For a greater impact, go flamboyant with wall art, rugs, draperies, and custom furniture.
4. Refresh The Look of Your Bed.
A simple way to give your bedroom a new look is to switch up the color scheme of your bed linens and make the bed differently. Further, you can add chick cushions and a cozy matching throw in complementary colors, and the space will appear completely new.
By changing the direction and color scheme of your bed linen you can create the sleep sanctuary of your dreams. You will feel refreshed and better prepared to take on the challenges of the New Year.
5. Add a Rug to Brighten the Floor
Invest in a plush rug to breathe new life into a room. It is non-permanent, requires little work, and can quickly alter the appearance and atmosphere of any space. You can use the ideal rug to tie your room's design together or your preferred design to give the room a new personality.
Jute rugs are currently one of the trendiest options, but if you do not want to buy a new one, give the old one a good cleaning. You will be amazed at the difference it makes.
6. A Good, Deep Clean
Nothing is more satisfying than dusting the shelves that housed the holiday decorations, picking up the Christmas tree's debris, and putting everything back where it belongs. However, schedule time for tasks that are rarely done because they require a little extra attention at this time of year, such as areas where dust can hide and spread throughout the house. Clean your window sills, air vents, light fixtures, curtains, blinds, skirting boards, walls, and doors. Crawl into the small spaces, and look inside the sub-counters of cabinets and appliances. Your reward will be the feeling of a clean, fresh, and revitalized space, but it will take some time, effort, and commitment.
7. Repaint The Walls.
A fresh coat of paint can significantly alter a room's appearance and atmosphere. It is also one of the most affordable and effective ways to update your home without making a long-term commitment. For the ultimate fresh look cover a room in crisp white or choose one of the trending paint colours for 2023.
8. Add Some Greenery
Although the winter can be a gloomy season, your home does not have to be! We advise using houseplants as decor if you want to liven up your home this year. To add greenery, you don't need a green thumb. You can hang them from the ceiling, dress up a bar cart, use standing planters to elevate them toward the eye, or arrange them in a vase and set them on a shelf or table.
In addition to being aesthetically pleasing, having plants indoors has several health advantages. According to studies, plants can improve your mood and help you recover from illnesses.
However, for plants to thrive in a room, there must be some light, but if there isn't much natural light, there are many low-light options you can use like aloe, snake plants, and spider plants.
Takeaway
Your home should be a place you love being in. Updating your space does not have to be expensive. You only need to make a few adjustments here and there to usher in January and see you through to spring. By putting the above suggestions into practice, you will be well on your way to creating a revitalized and fresher environment.
I hope this article gives you ideas how to rejuvenate your home after the holidays and usher in a brand-new year of style.