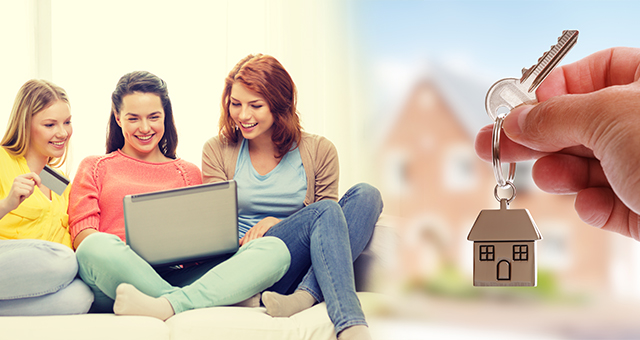 What You Need To Know About HomeOwnership And Student Loan Debt
A majority of millennials have student loan debt and write off applying for a mortgage as they fear that their debt will make them an automatic "no." According to the National Association of Realtors, "More than 80% of Americans aged25-35 with student loan debt blame their educational loans for not purchasing a home"
However, though student debt makes the home buying process seem difficult, homeownership is not impossible. With proper strategy and discipline, you could pursue your dream of purchasing a home.
Here are a few useful tips to help you buy a home while paying off student debt.
1. Boost Your Credit Score
Your credit score plays an important role in your mortgage approval as lenders use it to assess how risky you are as a borrower.
Review your credit score at least six months before you start looking for homes. Dispute any errors you find like incorrectly reported late payments or any unfamiliar medical bill in collections.
Pay your credit card bills and student loans on time as missing or late payments will lower your credit score. You can set up monthly auto payments to improve your credit score and give you peace of mind.
Pay off credit card bills completely or if that is not possible then keep the balances low. Your credit utilization should be 30%. This means that you should not spend more than 30 percent of your credit limit each month.
Keep any unused or even once paid off credit lines open.
Avoid applying for any new credit cards or loans.
2. Lower Your Debt To Income Ratio (DTI)
Your DTI is considered to be the total monthly debt payments divided by your gross monthly income. Lenders use this number to evaluate your mortgage application and ensure that you can afford to repay the money you want to borrow. For most mortgage loans you should have a DTI ratio of about 43%. If you do not fall under this threshold here are a few things you can do:
Work on paying off the smallest loans as quickly as possible. You can use your tax refunds, bonuses, or any other extra funds to decrease your debt. Even a small reduction will help your percentage to go up.
Increase your income by taking up a second job, a side gig, or freelance work. This will help you add to your income and improve your debt-to-income ratio. However, you will have to prove that this income is regular and recurring if you want it to be counted towards your DTI.
Refinance or consolidate your student loans. This will reduce your monthly payment and interest you will pay over the life of the mortgage.
Look into grants or scholarships that will help you to pay off your student loan debt.
Switch to a student loan repayment plan which gives you longer terms or rates based on your current income level. They are categorized as standard, graduated, extended, income-based, income-contingent, and income-sensitive. Generally, these plans allow you to make payments as low as 10%-15% of your monthly income. Lower payments will reduce your DTI and that augurs well for mortgage approval. It is recommended that you change your repayment plan a year before you apply for a mortgage.
To know more about debt to income ratio and how it is calculated read our blog "What Is Your Debt-to-Income Ratio and How Does It Impact Your Mortgage Application?"
3. Consider Mortgage Programs For First Time HomeBuyers And College Grads
There are various types of assistance programs that can help ease the burden of down payments, interest rates, and closing costs for college grads and first-time homebuyers.
Several states offer housing assistance to college graduates who have student loan debt. For example, the new Graduate to Homeownership program formed by New York State Home & Community Renewal provides low-interest mortgages or down payment assistance up to $ 15,000 to first-time homebuyers or college grads. Although there are a few restrictions like the area where you can purchase a home, it certainly pays off to check out your state options.
There are also various kinds of down payment assistance programs and first-time homebuyer mortgage programs offered by Federal and State-based agencies. These programs can ease the burden of interest rates, closing costs, and down payments.
A little research can help you find the perfect program and begin your search for your first home. You can also find a complete list of state resources at The U.S. Department of Housing Development(HUD)
4. Explore Your Loan Options
You may not qualify for a conventional loan if you have a DTI ratio higher than 50%. However, you could qualify for government-backed loans that are insured by the Federal Government. You could also consider an FHA loan (Federal Housing Administration). The DTI ratio in most cases is 57%. If you are serving in the army or National Guard you can opt for a VA loan with a DTI ratio of up to 60%.
Research different other loan types and talk to your mortgage lender to find the perfect option.
The Bottom Line
Qualifying for a home loan with student debt can be very stressful. But, if you work on your DTI and credit score, team up with the right mortgage professionals, and research for the right loan program you can be ready to become a homeowner!