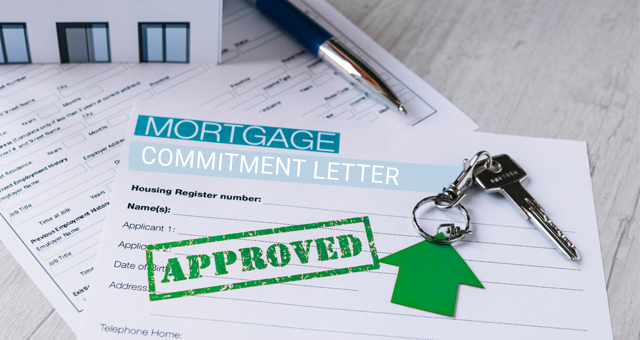 Understanding The Significance Of A Commitment Letter In The Home Buying Process
When you apply for a mortgage, the approval process can be confusing and complicated. There are many steps and levels you have to go through before the monumental mortgage document is sealed. While each step involved is important in your home buying process the mortgage commitment letter should be the ultimate goal as it will give you an edge over other buyers.
Here is an explanation of what a mortgage commitment letter is and its significance in the home-buying process.
Steps to a Mortgage Commitment Letter
When you apply for a mortgage there are three types of approval you will pass through: pre-qualification, pre-approval, and mortgage commitment. Each of these is an important marker on your home-buying journey.
The two preliminary approval stages before the final and most significant mortgage commitment letter are:
Pre-Qualification
Pre-qualification is a preliminary valuation that indicates the amount you can afford to spend on a home. It is just an estimate as the lender has not pulled your credit scores or verified any financial information. This does not carry much weight when making an offer.
Pre-Approval
A pre-approval on the other hand is an official document that you receive from your lender to evaluate your creditworthiness after your income, credit score and outstanding debts have been examined. A pre-approval letter is an assurance that you are a serious buyer and have funds to back up your offer. It is a huge advantage when competing with other buyers.
To learn more about these two stages of the mortgage process read our blog "Understanding the Difference between Pre-Qualification and Pre-Approval".
Mortgage Commitment Letter
The last and most official sign of approval is the Mortgage Confirmation Letter or loan commitment letter. It is an agreement between you and your lender outlining the terms of your mortgage. It also signifies that you have cleared the underwriting process and your mortgage application has been officially approved. Before you get a mortgage commitment letter you need to sign a sales contract and the home you wish to buy will have to be approved.
Typically the mortgage commitment letter will state:
The type of mortgage applied for.
The loan amount.
The interest rate.
Your lender's information.
Your mortgage number.
The commencement and expiry date of the commitment letter.
The amount you will pay monthly and the number of payments you will make till your loan gets paid off.
Details of escrow account (if you have one)
Mortgage Conditions
Usually, a mortgage commitment letter comes with a few conditions which needs to be met before you close on your loan. These conditions are issued by the lender's underwriting department or the company's underwriter. It is an individualized process so conditions vary from buyer to buyer. However, some typical conditions include:
Proof of purchase of mortgage insurance and homeowner's policy.
Clear title.
Obtain hazard insurance and flood insurance if the area is in the flood zone.
Proof that the earnest money deposit check is cleared.
Providing updated bank statement copies.
Request for additional documents.
If any of the conditions are not met it will prevent the closing of the loan.
The Final Commitment
Final commitment means that you have been approved for the loan without conditions. However, there is an expiration date on this approval. Your mortgage must be funded before this date, otherwise, you will have to reapply for the loan.
Bottom Line
As a borrower, you will have to be patient as the mortgage underwriting process takes about 30 to 45 days after you submit the paperwork. Having a pre-approval letter will no doubt take out some stress and expedite the process. However, make sure you understand the terms used and follow up on any requests by the underwriter ASAP. You should also stay in constant contact with your lender. The sooner you satisfy the conditions the sooner you can close on the mortgage and take possession of your new home.
To learn more about the mortgage process or get answers to your queries about loan options talk to our mortgage expert today.