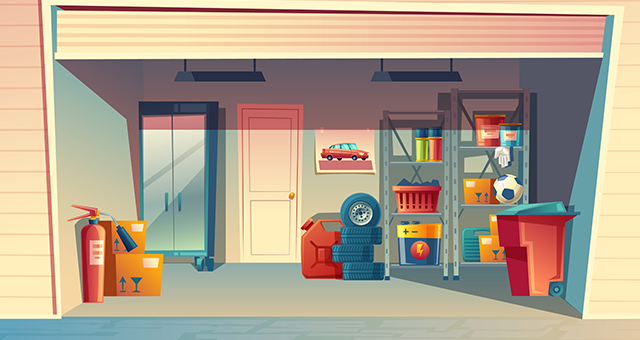 Tips to Organize Your Garage and Enjoy Extra Space
For many, the garage is more than just a place to accommodate their vehicle. Things can quickly spiral out of control if you are in the habit of using your garage for storing equipment and seasonal items, or as an overflowing attic.
If you are having trouble keeping your garage organized and clean, follow these tips to make the most of your space while keeping everything in order.
1. Clean And De-Clutter
Cleaning the floor with a broom or a shop vac is a smart way to begin. As you clean start getting rid of any unnecessary items you do not use or need in the trash. This way, you won't have to deal with it when you're de-cluttering and deciding what to keep and what to throw.
As with any clean-up project, you must first de-clutter to clean it up. This entails categorizing your belongings into familiar categories: Throw, Keep, and Donate. Experts advise that you should remove everything out of the garage and classify them into zones. This will enable you to see exactly everything you have, including what is broken, what you have outgrown, and what you are not using. A driveway is an excellent location for this. Divide and conquer by working on the garage in zones if there isn't enough space. Start with de-cluttering a specific area of the garage or a specific sort of object (sports and beach items, small equipment, etc.).
Are you undecided about whether to keep, chuck, trash, or donate something? Ask yourself, "How long has it been since I used something like this?"
Clearing away all of the clutter will make it easy to assess your garage space and determine what kind of storage system you will need.
2. Use Overhead Space Wisely
Creating overhead storage is a great way to maximize space for your car and other important items. You could use ceiling-mounted racks to store long bulky items that you do not use every day like helmets, plastic storage bins, patio furniture, spare tires, and out-of-season items. It will also help keep the eye-level area of the garage clean and uncluttered.
You should choose sturdy storage racks that can support heavy weights and are securely affixed to the walls and ceiling. It is wise to get racks constructed of high-quality steel with a powder-coated finish since these will last considerably longer and prevent rust. Also, make sure that any shelves you hang from the ceiling do not obstruct the functioning of your garage doors, and that there is enough room to avoid scratches on your car's roof.
3. Install A Pegboard
A pegboard is the most versatile storage tool for your garage. It is widely accessible and simple to install. It can be trimmed to size and even painted to match your décor. Various manufacturers offer a selection of appropriate hooks, shelves, and organizers.
On a pegboard, you can hang individual packs of nuts and screws, bottles of glue, and other items. Make sure to choose clear containers so you can quickly find what you are looking for. Spanners, hammers, wrenches, screwdrivers, pliers, and other tools can also be stored on a pegboard. However, pegboards are not strong enough to hold heavy items like bicycles.
4. Slat wall Panels
Besides, a pegboard you can also install a slat wall panel in your garage to expand your storage options. The weight capacity of a slat wall is higher than that of a pegboard.
An important reason to get a slat wall panel is that the slats or grooves ground into the wood will allow you to attach various accessories like hooks, baskets, and slat wall shelves.
You can use your slat wall hooks to hang large, heavy items like motorcycles, bicycles, rakes, shovels, athletic equipment (hockey sticks, baseball bats), and ladders. Remember that these will take up less wall space if stored vertically instead of horizontally.
You can also add hanging baskets to store things that are difficult to hang like auto cleaning supplies, aerosol cans, water bottles, and just about anything else.
Not everything you keep in your garage can be hung on the wall with hooks. You can organize them on sturdy shelves. This slat wall accessory is ideal for storing books, periodicals, motor fluids, paint cans, and a few potted plants. They are also great for viewing your shoes and other collections.
And it will also benefit the car. The wider the surrounding space, the less likelihood of it getting scratched. If you park your car outside because your garage is too congested inside, this may allow you to get it inside.
5. Add A Folding Working Table
If you or any family member uses the garage for a workshop, then consider making a drop-down folding table. Opt for one that is attached to the wall with hinges, so that you can fold the legs down and store it against the garage wall when not in use. This folding worktable is easy to put together and set up.
6. Maintain Your Organized Garage Space
The final step is to maintain your garage space once it has been organized. De-clutter and tidy your garage regularly to harness the benefits of the garage improvements you have made. Cleaning your garage should be done every two or three months. At least once a year, you should undertake a more comprehensive cleaning, which includes washing your garage floor. According to experts cleaning and maintaining your garage will take less time once the space is organized.