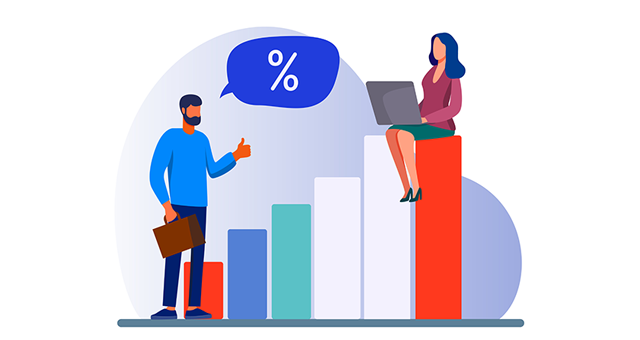 Should You Lock In or Float Your Mortgage Interest Rate?
When you start your mortgage process, your lender or loan officer will want to know whether you want to "float" or "lock-in" your interest rate. It is important that you fully understand these terms before you pick one over the other. Your decision will determine what you pay each month and the total amount you will pay over the life of the loan.
What It Means to Float a Mortgage Interest Rate
"Floating" rate means that your mortgage interest rate will be subject to daily market fluctuations. So, if you let the interest on your loan float, you will have to accept the rates that exist nearing the closing of your home. For example, if your present interest rate available is 3.75% and due to market movements the rates change by a quarter-point or more your rate can go down to 3.50% or even less. Or, it can go up to 4% or more. So floating a mortgage rate will depend on your risk tolerance.
What Is A Mortgage Interest Lock?
A mortgage interest rate lock is also referred to as a locked-in interest rate or rate commitment. This means that the lender has guaranteed to provide a home loan at an interest rate that will not change from the offer date to a specified closing date. However, it will cease to apply if there are significant changes in the application form like the appraisal coming lower than estimated or a change in the credit report. Mortgage interest lock-in rates are usually available for thirty to sixty days and sometimes for a longer period too.
Your interest rates can fluctuate daily or sometimes even hourly. So, locking in your interest rate will protect you from these fluctuating rates till you close on your new home.
How Much Will It Cost You to Lock in Your Mortgage Interest Rate?
Many mortgage lenders do not charge to lock in your mortgage rate or even a rate extension for the closing. Some that do will usually charge a fee of 0.25% to 0.50% of the total mortgage amount. The fee for an extension will be between 0.06% – 0.375%.
If your mortgage lender offers you everything you are looking for in a home loan then the rate lock fee should not discourage you as you will be saving thousands of dollars over the life of the loan. Also, if some mortgage lenders offer an automatic rate lock, they will usually build in the costs into the loan like increasing the initial rate or closing costs.
Why Would You Want To Lock Your Mortgage Interest Rate?
Mortgage rate locks are popular with buyers due to the following reasons:
They have found the home they like and a mortgage that fits their budget. So, they do not want to take a chance with market rates being so unpredictable.
They can focus on the things that need to be done before closing rather than worrying about what the interest rates will be if their closing is delayed.
They can avoid last-minute scramble before closing like making a higher down payment or purchasing points due to higher interest rates.
They can extend the locked-in rate for longer if needed.
Why Would You Not Want To Lock-In Your Rate?
Lock-in Rates are no doubt helpful but they may not be the right fit for everyone. Here are the common reasons why buyers hesitate before locking in their mortgage interest rates:
They do not want to miss out on a lower interest rate as they think that the mortgage rates may go down in a month or two that will take to close on their loan. This will help them save a lot of money over the life of their mortgage.
If they are unable to close on their home within the specified time frame (30-60 days whichever is agreed upon) then they will have to extend the lock-in period. Paying for an extension can turn out to be expensive.
If interest rates go down they will not be able to avail of the lower rate unless they have a float-down provision added in their original rate lock agreement.
When you decide to lock in your mortgage interest assess how long you will need to meet the deadlines before you close on your mortgage. This will help you choose the lock-in period.
What to Do If Mortgage Rates Drop after Your Rate Lock?
If the interest rates go up then you will be happy that you had locked in your rate. However, if the rates go down then you may want to know what your options are:
If there is only a slight increase in the interest rates, then stay on your path as the impact on your monthly payments will be minimal.
You may want to consider looking for another lender. But, there are some risks as you can lose the money you already spent on fees and costs with your present lender. So, you must evaluate the amount you spent already versus the amount you will save on the interest rate over the life of the loan. You should not be impetuous and base your decision solely on the interest rate.
You could opt for the float-down option when you lock in your mortgage interest rate. Usually, there is a fee associated to add this in the rate-lock agreement depending on your mortgage loan amount. So, discuss this in detail with your mortgage lender or loan officer.
Wait longer to close on the house. However, this can complicate the purchase if the seller wants to close on a particular date.
For more information or queries about lock-in or current mortgage interest rates get in touch with our mortgage expert today.