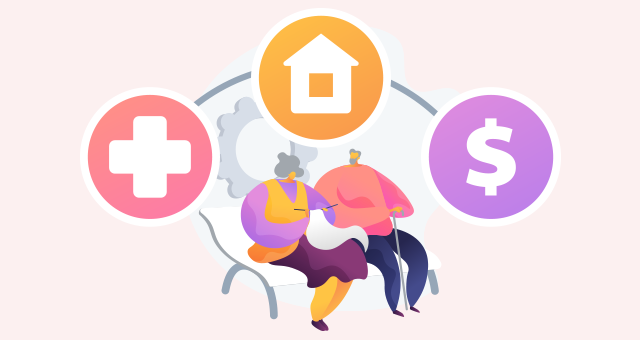 Retirement Planning: What to Consider Before You Pick a Home to Retire In
Often when retirement is right around the corner, people decide to move to a new place. There are numerous motivations to relocate after retirement, including the desire to live closer to family or to simply explore and experience a section of the country one has always wanted to live in. However, finding the ideal location to retire and spend your golden years is not that easy.
Here are six questions to consider while looking for a retirement home.
1. How much you can afford monthly?
The ultimate cost of living is a crucial factor to consider while deciding where to retire as the cost of living in different areas can vary significantly. This is true not only in terms of home prices, but also in terms of essential living expenses, such as food, petrol, grocery bills, and utility bills. It is always a good idea to spend some time investigating a town you might be interested in and to think about the costs on a day-to-day basis.
Comparing your predicated retirement assets to the cost of living in the area in which you wish to retire is always a wise choice.
2. What are the tax laws?
Along with assessing the cost of living in general you must evaluate the tax situation before you decide as to where to retire. Some states, for example, levy an income tax, while others do not. However, property and sales taxes may be greater in some states.
Then again while prices on common commodities may be higher in some areas, taxes may be significantly lower, bringing the whole cost of living closer to parity.
Therefore, as living on a fixed income may constrain your retirement options thinking ahead of time about the tax implications can help you make the right decision.
3. What Are Your Retirement Goals?
The next step is to establish whether or not the potential retirement location can support the lifestyle you choose. So, before you make any decision review your retirement wishes in great depth by answering these questions:
Do you wish to relocate to a hotter climate? Do you wish to live in a community that offers resort-style amenities like walking trails, pools, tennis courts, and golf courses or do you prefer a neighbourhood with easy access to supermarkets, restaurants, and other facilities? Do you want a more tranquil, less crowded setting where you may enjoy the outdoors while having more personal space?
As you begin to investigate various communities and what they have to offer, think about your hobbies, preferences, and retirement goals to make a decision that matches your needs.
4. How Close Do You Want To Be To Your Loved Ones?
Nowadays it is easy for people to keep in touch with each other through Skype, social media, and other technology advancements. However, many retirees desire to be close to their families and long-time friends. Furthermore, they wish to have a support system and a community where they will feel loved and connected as they grow older. While this may not be a requirement for everyone, if it is important to you, take it into account while deciding where to retire.
Even if you don't want to retire in the same community as your family or friends, you might want to explore a neighborhood that is easy for your busy friends and family to come to visit you. You may also wish to travel to them. Will you be near a major airport or only a short distance from your loved ones?
Also, if you choose a place with few people around for help make sure that you have ample transportation choices and other options to fall back on if you come to be less mobile and more vulnerable.
5. Do You Have Easy Access to Health Care?
The quality and accessibility of healthcare are important factors to consider while considering where to retire as they become increasingly relevant as you age. Ensure you have readily available doctors, hospitals, affordable living support facilities, and suitable transportation options for reaching them.
Therefore, a secluded house in the mountains, where the nearest town or city may be miles away, may not be the best option. So, before deciding where to retire, research your local medical infrastructure to see if it can provide the quality services you need.
6. Will Your Home Be Able to Meet Your Needs As You Age?
You may be able to climb the stairs now, but if it is one of the final residences you expect to own, you must buy a home that permits you to move around as much as possible. This could include a home with one level or a first-floor master suite, wide doorways, grab bars in the bathroom, a stall shower, and wheelchair-accessible doors.
Even if you don't require these features right now, you may require them in the future. So, purchasing a property with these features will eliminate the need to relocate later.
Ratebeat Mortgage is dedicated to assisting homebuyers at every stage of their lives. Depending on your requirements we can assist you with a conventional loan, an FHA loan, a VA loan, or a specialized product. Contact one of our loan specialists who will assist you with your next home purchase.