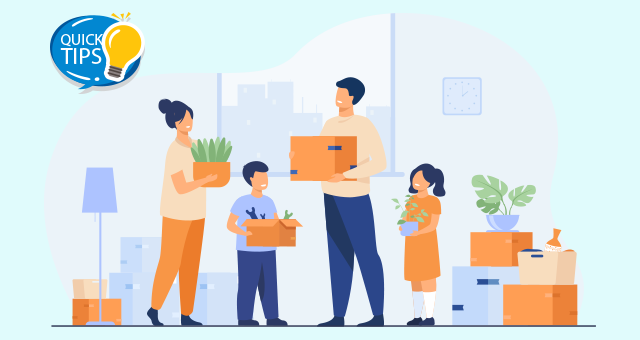 New Homeowner Tips: Tasks to Done Before You Move In
Congrats! You have just closed on your new home. Now, what next? You must realize that your homeownership does not end with the closing of your new home, but is just beginning. There are some top tasks to complete that many buyers often overlook. By completing these tasks you can improve your chances of being happy with your purchase for many years to come!
Here are some of the "must do's" before you move into your new abode.
1. Double Check Your Home-Inspection Report to Complete Urgent Repairs
Double check your home inspection report for things you need to fix. The report may include issues like leaky plumbing, windows that do not lock, or overstuffed gutters that the previous owner or your property management company did not address. These issues have to be taken care of ASAP. However, getting everything done at once can be overwhelming. So, make a list of items that need to be addressed from highest priority to lowest and get started before you move in.
2. Do Some Improvement Projects
Plan to do some home improvement projects before moving in like repainting, refinishing hardwood floors, plastering, or sanding. This way you will avoid living in a construction zone and need not worry that your furniture will be ruined.
Also, if your home needs some work to be done behind the walls like replacing rusted pipes get them done before you move in, if possible. You will be happy that you did so.
3. Set Up Utilities and Schedule A Cleaning
Before moving in ensure that the essential services for household utilities have been set up. This should include everything from water to electricity to the internet. Nowadays, switching on the utilities is generally straightforward. You can make most of the arrangements over the phone or the internet without visiting the site. While many utility companies are usually timely about activation, you should not assume that this will always be the case. The best plan is to set up your utilities before closing. This will ensure that there is no interruption in service like being without power when you want to start on improvement projects before moving in.
Also, before you move in your furniture schedule a deep cleaning as chances are that the previous owners may have done only the bare minimum. Hire a cleaner to clean all nooks and crannies in the house including steam cleaning the carpets, baseboards, and ceiling fans.
4. Make Copies of Important Documents & Put Them In a Safe Place
Purchasing a home involves a lot of paperwork. You must make copies of all these important documents and store them on a secure cloud-based website or software like Google Drive or Dropbox. Keep the originals together in a safe place like a filing cabinet, a small safe, or a dedicated drawer in a file. These will be needed in the future for a variety of reasons like discovering unclosed issues or if certain conditions of the sale have not been met, or when filing for your taxes.
5. Change or Re-Key Every Lock
When you are handed over the keys of your new home you should presume that everyone has a set. In addition to the seller, they were likely in the hands of the real estate agents, their assistant, prospective buyers, and contractors. So, to avoid strangers gaining access to your home change all the locks including the garage and side doors. Also if any doors have keypads change the codes.
Spending a few hundred dollars to change or re-key your locks is well worth the peace of mind that comes to know that you, your family, and your belongings are safe.
6. Check The HVAC Systems And Water Heater.
You and the home inspector must have had a look at the HVAC System and Water Heater during the home inspection. However, there are still some tasks that you need to complete just after closing.
You must drain the water heater and adjust the unit's temperature and pressure. This could lower your energy bill and extend the life of the water heater.
Service and clean your HAVC by a professional after closing. The cleaning of the air conditioning unit and the furnace is important and should be done every year. It will also be a good idea to change the filters of the AC and the furnace. Replacing filters every three months and serving your HAVC every year can significantly impact the efficiency of the system. It will also help you save money, get rid of odors, and improve air quality.
7. Create a Seasonal Home Maintenance Checklist
As a homeowner, there will be a list of tasks that you will have to do annually or semi-annually to keep your home in tip-top shape. It is a good idea to break up your home maintenance tasks into two seasons(that is spring and fall). Additionally, you can use your home inspection report as it often provides details as to when certain things have to be maintained, replaced, or serviced.
Your maintenance list can be a spreadsheet or just a piece of paper. But, it is important not to defer these tasks as they can greatly reduce the number of big repairs and costs that are associated with delayed home maintenance.
Final Thoughts
Being a homeowner is a great accomplishment. But it can be stressful sometimes as the "do-list" will typically continue to grow. However, knowing what you need to do or not forgetting anything altogether will alleviate any unnecessary stress of homeownership.