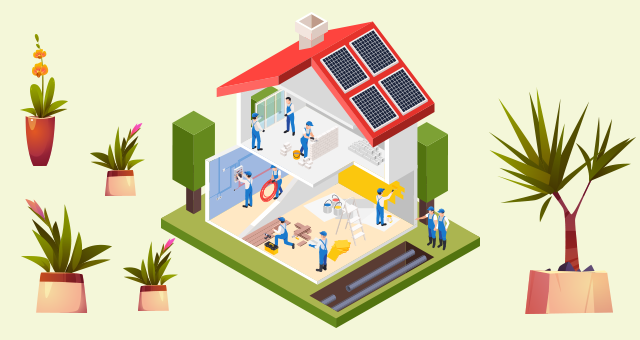 Homeowners Tips: 5 Effective Ways to Retain the Value of Your Home
Purchasing a home is the most significant financial investment you will ever make. Understandably, you would want to safeguard this investment at all costs. Few things are more frustrating than watching the value of a home you have spent a significant amount of money on gradually decline.
Fortunately, maintaining and possibly increasing the value of your home is not as challenging as it may seem.
1. Routine Maintenance
First and foremost, ensure that necessary maintenance and repairs are performed. This is important for both the structural integrity of the home and your safety. The best approach is to set aside a dollar amount (or a percentage of the home's value) each month as a repair and maintenance fund. This includes cleaning refrigerator coils, replacing the furnace filter, changing the vent filter, ensuring the sump pump drains properly, repairing dripping faucets and running toilets, testing smoke and carbon monoxide detectors, and keeping appliances and fixtures in working order. Maintaining these things allows you to enjoy your home and also helps keep its value from decreasing.
2. Not Upgrade, But Update
Many household appliances have a lifespan. Some will last longer than others, but they should be replaced at regular intervals. Not every new purchase, however, must be an upgrade. When replacing older items like a refrigerator, washer, or water heater, do not feel obligated to buy the most expensive model every time. Whenever possible, choose energy-efficient appliances that will reduce your monthly energy bills and will be appealing to future potential buyers when you put the house on the market.
3. Repainting Your Home
Adding a fresh coat of paint on the interior and exterior walls is an excellent way to make your home look beautiful, refreshing, and well-kept. Painting your home not only personalizes it but also increases its value and protects it from elements such as dust and rain.
Several factors (such as climate, weather, small children, or pets) influence how frequently you should repaint the interior walls of your home, but as a general rule, it should be done every five years. Painting the ceiling can also quickly brighten up a room and make it more appealing. The exterior walls of a house should be repainted less frequently than the interior, perhaps every ten years or so. If the exterior of your home needs paint, consider repainting the primer as well.
4. Maintain the Curb Appeal
Maintaining your home's curb appeal is crucial whether you are getting your home valued for selling, refinancing, or just wanting it to look its best at all times.
Here are a few things you can do to improve the curb appeal and retain the value of your home:
Keep the lawn mowed and trimmed.
Ensure that there are no overgrown bushes or trees.
Clean the gutters and downspouts.
Wash the windows.
Check the seals of the windows and doors to prevent drafts.
Repair any roof or siding damage.
Maintain the safety of the decks, porches, and stairs.
To prevent rot, keep the siding clean and painted. Also, trim any shrubbery closer than 2 feet from the siding.
5. Deep Clean Regularly
Deep cleaning will not only keep illnesses and diseases at bay but also assist you in identifying the repairs you should make around your home to maintain its value. When you clean the indoors, keep hard-to-reach areas in mind because they tend to collect dirt over time.
Another way to keep your house clean and spacious is to keep everything in its place and space out pieces of furniture so that the room does not look cluttered. This will give the room a more appealing look and make it easy for you and your guests to move around.
The Final Tip
There is much you can do to maintain the value of your home, but these guidelines are a good starting point.