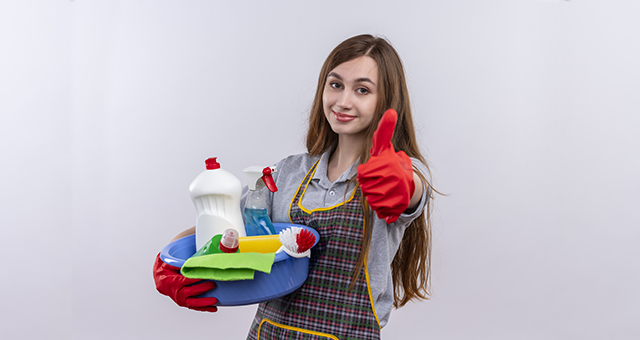 Easy Spring Cleaning Tips & Hacks to Reduce Clutter & Stress
Springtime: Trees sprout, flowers bloom, and birds sing. It is time to spruce up our houses and get a jump start to the busy spring and summer seasons. For many people, spring cleaning may appear to be a challenging undertaking. However, it does not have to be so.
Check out these basic cleaning tips and hacks to make spring cleaning a snap.
1. De-clutter and Reduce
One of the most critical and time-consuming aspects of spring cleaning is de- cluttering. Begin by removing anything you do not use or require from your workplace desk, tables, couches, dining room, closets, and bookcases. There are two simple approaches to make the process more efficient: de-cluttering by room to room or by category to category. In any case, it will be helpful to sort your stuff into four categories: keep, donate, store, and throw away. Put these things in labeled boxes/bags/bins (Bags avoid clutter and speed up the process). Whether you are sending a donation box to a charity or arranging a yard sale, get rid of the clutter as soon as feasible.
"Do not have any item in your home that does not add function to your life or you believe is not beautiful."
2. Examine the Expiration Dates
We get so caught up in our daily lives that we do not always pay attention to the expiry dates stated on labels. Therefore, it is critical to double-check the pantry, freezer, cosmetic drawer, and medicine cabinet to ensure that everything is up to date. Throw away items that have passed their expiration date or you know you will never use them. If you know that the unopened canned or bottled items are still good, but you will not consume them, donate them.
3. Bid Adieu To The Dust
Dusting is by no means a popular task, but there are a few quick and easy ways to get it done:
Window blinds: To remove all dust between window blinds attach a dryer sheet or cleaning cloth to your kitchen tongs and secure with a rubber band or hair elastic. Clean both sides of a blind at the same time by clamping the tongs on it.
Ceiling fans: Simply cup a pillowcase in your hand and place it over top of the fan blade when the fan has been turned off. Remove the dust and go to the next step.
Lampshades: Use a lint roller to clean lamp shades.
Furniture & Areas Around: Dust the furniture and the surrounding areas with dusting cloths. Invest in good dusters to expedite the process. This ensures thorough cleaning and prevents dust particles from floating around.
Books and Shelves: Remove everything from the shelves. Use a feather duster to dust the shelves and books. To reach tight spaces, use a vacuum cleaner with a dusting brush or crevice tool. With a clean, soft cloth wipe the spine of leather-bound books.
4. Clean Your Surfaces
It is critical to keep surfaces clean and smooth after dusting:
Walls: Starting from the top wipe clean the walls with a moist towel.
Doors and switch plates: Light switch plates and doorknobs should be wiped off with a moist microfiber towel to remove fingerprints, blotches, and bacteria.
Surfaces: Use a high-quality scrubbing kit to wipe off and clean surfaces. This will save you time by reducing the number of wet cloths you use to get rid of the tenacious stains. You can also clean all types of floor corners and pivots. These kits can also be suitable for sinks, bathtubs, showers, ovens, skirting boards, tight corners, glass doors, toilets, and grills. Besides, you can also scrub outdoor areas and tires with this kit.
5. Make the Basic Kitchen Items Versatile
Many items in your kitchen are not just for cooking!
Ice, Salt & Citrus: One of the best ways to clear away awful odors and residue from your garbage disposal is to toss ice, salt, and small pieces of citrus (oranges, lime, lemon, or grapefruit). Ensure the peels are cut into small enough pieces for the machine to handle. Turn on the unit and let it run while the peels and ice are being crushed.
Baking Soda & Vinegar: Clean your dishwasher with baking soda and vinegar. Pour one cup of baking soda into the bottom empty dishwasher. Then instead of dishwashing liquid use vinegar and run the dishwasher at the highest setting.
Baking soda: Simply cover the bottom of the oven with a thick layer of baking soda and leave it to sit for a few hours. Then scape it away with a moist sponge. To deodorize your carpets, simply sprinkle a thick layer of baking soda on them and leave it for a few hours. Then use a vacuum cleaner to remove the baking soda. This is a quick and inexpensive way to freshen and clean your carpets.
Lemon Juice: Wipe down kitchen cabinets with a mixture of 1 quart of hot water and a half cup of lemon juice. Use the magic eraser pad from the dollar store to de-grease and de-gunk them. Do not forget to clean down the hood of the exhaust vent while you are there
Lemon juice and salt: A blend of lemon juice and salt works well for cleaning copper and brass, as well as removing mildew stains. Rub the area with a half-cut lemon after sprinkling it with salt.
6. Make A Spring Clean Checklist
If you are feeling overwhelmed, remember that it is called spring cleaning. Patience pays off in this scenario, so try not to complete all of your responsibilities in a few days. Make a list of the things that need to be done. This will help you visualize what you need to do and how long it will take. You can prioritize urgent tasks. After finishing, go down the list and cross them off one by one. This will give you a sense of success and encourage you to clean more.