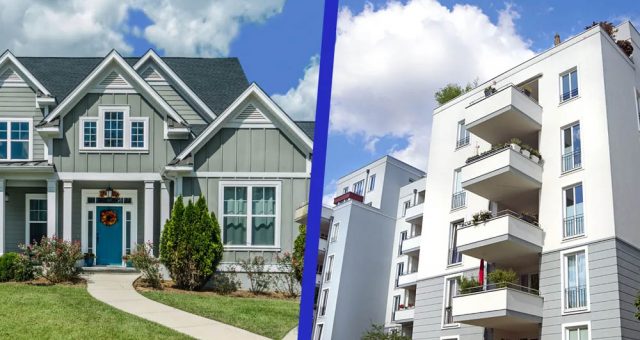 CONDO Vs HOUSE: Five Key Questions to Ask Yourself When Deciding On Which Is Best For You
For many homebuyers, the first most crucial decision they have to make is whether to purchase a traditional house or a condominium. Both of these options have advantages as well as disadvantages, but deciding which choice is the right one will depend on what matters to you most. That is why you must do a bit of soul searching before you purchase your home.
Here are a few key questions you can ask yourself to get a better idea of which type of home will suit you best.
1. How spacious does my home need to be?
Generally, houses have more floor and yard space than condos. How much space you need depends on a few factors.
Do you plan to have many kids or already have kids? How many bedrooms, bathrooms, or storage space do you need? Will you be happier in a home with a yard or do you prefer the sleek design of a condo? Do you like to have less area to clean and less space to accumulate clutter?
Take into account your present and future needs to make the right choice.
2. What amenities are important to me?
Another big question that you need to answer is what type of amenities matter to you most. Almost all houses have basic amenities like a washer-dryer, HAVC, oven, and dishwasher, etc. Condos are equipped with frills that you may not otherwise be able to afford like a swimming pool, gym, recreational facilities, and cable television service. These amenities are included in the monthly fees and may be convenient for people who require all these things close by. For others, these may not be that significant as they may prefer to live in a more rural area.
Whether you are looking at condos or houses, you should do some research for nearby amenities and see what is important for you. Also, be prepared for fluctuating or increasing condo maintenance fees.
3. What kind of privacy am I looking for?
When you purchase a condo you are living in pretty close corners and sharing common grounds and facilities. A condo may be the right choice for people who do not mind community spaces and like to join or start a book club, meet and greet people when they go out for a walk, or find friends.
However, if you are a person who values your privacy then you might find the community areas less than ideal. Even in the most elusive condos, you will be sharing elevators and other amenities. So, if you prefer more privacy and space (physical and personal) than a single-family home will be the right fit for you.
4. How much do I want to customize my home?
The next question you need to ask yourself is how much home renovation do you want to do? A big disadvantage of buying a condo is uniformity. Due to the very restrictive condo association rules you cannot customize the unit as you want nor make any significant changes to the structure or infrastructure of the condo. Purchasing a house on the other hand will give you the liberty to do what you want. You can paint it any color you wish, put flowerbeds or build a playhouse in your backyard, or can even add a room or rearrange the walls.
You need to decide which option you prefer: living in a home that cannot be customized or a DIY dream home?
5. Can I adhere to the rules?
Living in a condo means living by the condo association rules and by-laws. Some condo communities provide many liberties, but some others may come up with rules that dictate the kinds of pets you are allowed to have, where you can park, or include things like no landscaping, no outdoor decorations like flags.
Condo associations can sue people for over violations and you have a say in what is going on around you through the voting process. However, your neighbors can sometimes be noisy or make your life miserable even without any lawyers getting involved.
Therefore, you must read the condominium documents (especially the rules) properly and determine whether the majority of residents have similar interests like you before you decide on buying the said condo.
Many more factors can play on your decision. But, answering the above few questions will be the starting point to help you decide which option best suits your current lifestyle.
Getting a mortgage for a condo is vastly different from a condominium. So, if you have any questions about your mortgage options speak to one of our experts at (877) 877 7575 or contact us online today to get started.