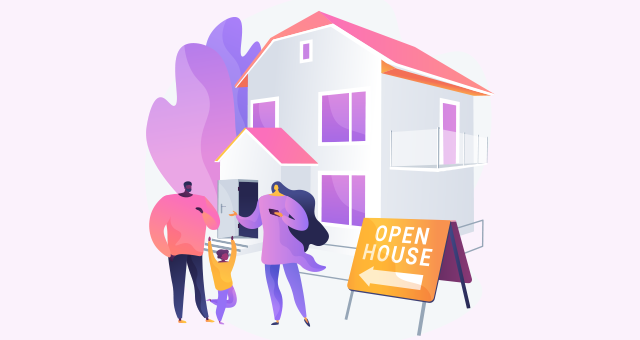 A Homebuyers Guide to Open House Etiquette
Open houses are an excellent way to find your dream home. They allow you to look at homes at your leisure, get a sense of what you are looking for, and even gauge the local home-buying competition. However, open houses are a significant undertaking for agents, and attending one implies respect for their efforts, the home, and the sellers who live there.
There are no hard and fast rules for an Open House. However, if you intend to go for a few open houses as part of your home search, ensure that you follow the open house etiquette given below.
1. Unless Otherwise Specified, Do Not Knock
Each agent will hold an open house in a slightly different manner. However, unless otherwise instructed, you should not knock or ring the doorbell when you arrive. If you do not see the listing agent right away, you can shout a greeting to announce your arrival.
2. Before Entering, Wipe Your Feet
Wiping your feet before entering someone's home is a common courtesy. Wear shoes that are clean and will not damage the flooring. Before entering the door, wipe your feet on the front mat or, if there isn't one, remove your shoes and leave them on the stoop (especially if it's particularly muddy or wet outside).
If the homeowner has an established rule requiring you to remove your shoes regardless of the weather, you must follow it. Respect is essential in this situation. You would not want someone dragging leaves, mud, and other filth through your clean house, so expect others to do the same.
Do wear socks or take a spare pair with you. Also, while walking through the house, the real estate agent may request you wear open-house booties.
Finally, if you intend to wear high heels, ensure not to walk on the lawn and damage it. Maintaining the yard takes a lot of hard work.
3. Stick To Open House Hours
Do not show up at 11.30 and barge right in if the open house is between 12 to 5 p.m. Sellers may still be preparing their property, and they have the right to do so. Reaching late and requesting a full tour of the house is also unacceptable. Organizing such events is exhausting. The listing agent has also spent most of the day at the property. Respect the time limit of 12 to 5 p.m. If this does not work for you, make other arrangements, such as scheduling a private walk-through on another day.
4. Sign up
The home seller or real estate agent hosting the open house will likely ask you to sign in. You will be asked to fill in your name, email address, and phone number. Use accurate information as it will allow them to contact you if anything changes with the home or if they know of any other property that meets your needs. Signing in is also critical for the security of the property. The sellers can keep track of who is coming and going in case some of the home's furnishings, decor, or belongings go missing. Make sure to sign in as soon as you arrive to show the agent you are legitimate.
5. Give Other Visitors Their Space.
If other visitors are touring the property, ensure to give them enough space to evaluate the home. Let them explore rooms and areas, and wait your turn until they are finished. Start downstairs or outside if there are some people upstairs. If they take longer than you would like, be the bigger person and show patience; everyone will eventually get through the house. Nothing is worse than feeling rushed or crowded, especially when making a big decision like a home purchase.
6. Do Not Take Photos Or Record Without Permission.
With the advent of smartphones, clicking pictures of anything of interest has become commonplace. Even more so with open houses, you should ideally revisit videos and images of things that stood out to you for later review. However, before you take a quick photo or video, make sure it is permitted (and legal). Again, this could be someone's home, and they are entitled to some privacy. Even if you are only going to record your commentary around the house, it's best to ask before you begin.
7. Take A Look Around, But Don't Snoop.
This is particularly important if the sellers are residing on the property (or still have belongings stowed there.) While you should inspect the closets and cabinets to determine storage space and overall fit for your family, do not rummage through the seller's personal belongings. You do not need to open a dresser drawer or look inside the refrigerator to evaluate a house, so respect their privacy — and look but don't touch.
Sometimes you can wait until your home inspection, while you can discover other things while talking to your real estate agent. With a high-quality list of questions and a friendly tone, an open house can be informative and profitable, especially if you want to make an offer.
The Last Word
The most important thing to remember when attending an open house is to be completely honest about your intentions. Let the agent know if you are looking around the neighborhood or getting a sense of what home features you like so they do not waste time and resources on you. If you're serious about buying a home soon, it is okay to take up a little more of the agent's time or stay longer on the property.