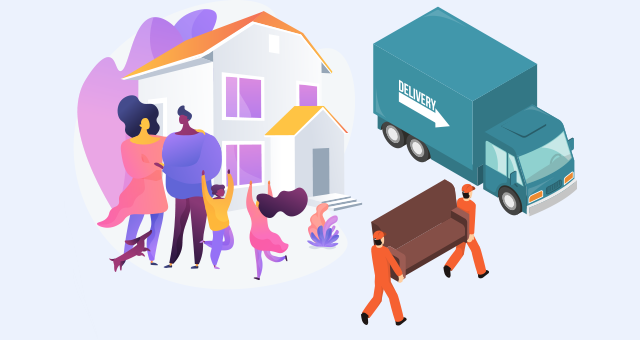 A Beginners Guide On How To Prepare And Pack For A Household Move
Relocating to a new home is exciting. But, at the same time, the long list of things that you need to accomplish before moving is undoubtedly stressful and overwhelming. At first, it may seem like a herculean task. Luckily, these helpful tips and suggestions can make the packing and moving process a breeze.
1. Research and Book a Moving Service ASAP
Before you hire a moving service research online for companies with positive reviews. Also, check with family and friends for any references they have. Pick a company that you feel confident with and ask questions before signing the contract. Also, fix the date of moving five to six weeks in advance as they book up early, especially in the peak spring and summer moving season.
2. Get Organized
Getting organized is the key. So, first, print out a comprehensive moving checklist that includes the timeline and a realistic budget. Place it in a folder or file with all your move-related paperwork including moving documents, contracts, and receipts.
Dedicate a notebook or create a "moving" file on your computer for all your notes related to the moving process.
Remember to make a list of who you need to notify and what you need to do before you move like filling out an official change of address with the U.S. Post office and making address changes on all your relevant accounts.
3. Prepare Early
Many relocation experts recommend that you start your planning six to eight weeks before you move. However, everyone's timeline will be different. Some may have just one month or even two weeks depending on the notice they are given.
Many think that it does not matter how early they pack as everything should be ready before the moving day. To some extent that is true but leaving the decluttering until a few days before you move can make it more stressful. Therefore, it is recommended that you start early and prepare by phases. By breaking up your move into smaller projects like six weeks, four weeks, two weeks, and so on, you can tackle them easily.
4. Declutter Thoroughly to Pack Less
Whether you have lived in your present home for one year or ten years you must have collected a ton of things that you no longer need or use. So, the best way to declutter is to tackle one room at a time and look into every drawer, cabinet, and closet to sort out your belongings into the following categories:
You use it: Take it with you.
Sell or Donate: Donate to charity, give to friends, organize a garage sale, or sell online the things that you no longer need. You could also get rid of any furniture that will not fit or you know you will not use in the new home.
Toss: Trash or recycle
5. Gather Your Moving Supplies
To ensure that all your household goods arrive at your new home without a scratch you should start by making a packing list. This will help you purchase the right packing and moving supplies. Gather the following supplies:
Markers for marking boxes.
Tape
Newspaper
trash bags
padding tape
moving blankets
paper towels
scissors
screwdriver set
Boxes: Buying a variety of boxes of different sizes and shapes can make a big difference when packing for a move. You can get cheap free moving boxes from a local grocery store, NextDoorNeighbor, or local "buy nothing" groups. But make sure that they are in good condition as you do not want your boxes falling apart when moving them into the new home.
Bubble wrap: To protect your items during moving. You can purchase these from a department store or an office supply store. You may also get it for free on Facebook Marketplace.
You can consider renting out reusable plastic bins that are convenient as well as eco-friendly.
Dolly: Carrying boxes between places could lead to drops. So, you can rent a dolly from a home improvement store or moving company to make moving easier and less taxing.
6. Tips to Pack Room-By-Room
Packing one room at a time will keep things streamlined and make it easier to unpack in your new home. Here are some tips:
Start packing carefully and keep each box cushioned inside. You can use newspapers, bubble wrap, blankets, or even towels. Then put the heaviest items like books in smaller boxes and the lighter ones in larger boxes. Also, be sure to put the heaviest items at the bottom and lighter items on top.
Do not fill boxes to the brim and fill any gaps with packing paper, clothing, or foam peanuts to avert items from shifting during the move.
Keep your heaviest boxes to weigh not more than 50 pounds.
To stay organized give each room a different color by printing multicolored packing labels or using colored tape.
Mark the contents of each box with the room name, contents, and whether they are fragile or not. You could also use colored tape to mark the entrances in the new home. It will save the movers a lot of time as they will know where each box goes.
7. Take Extra Time When Packing Electronics and Furniture:
First, remove and secure all drawers and doors of the cupboards.
Label and take photos of any furniture you take apart as a guide to put them back together. Put the screws and bolts etc. in plastic bags and fix them to the back of the furniture with tape.
Take photos of the back configuration when packing your electronics, so that you know which cord goes where.
8. Follow the Rules Of The Moving Company
If you are hiring movers then the most important tip is that you should read your contract to find out the restrictions on certain items like tools, painting equipment, cleaning chemicals, or perishables. They may also have restrictions on transporting oversized or exceedingly heavy items. So make sure you know ahead of time what you shouldn't pack or what you should be careful of when packing.
9. Prepare an Essentials Box
You should think ahead about the things you will need for the last few nights before you move and what you would like to unpack first in your new home. Put all these must-have items like clothes, paper plates, plastic utensils and cups, toothbrushes, medicines, screwdriver, hammer, scissors, a first aid kit, etc. in a box labeled as "essentials".