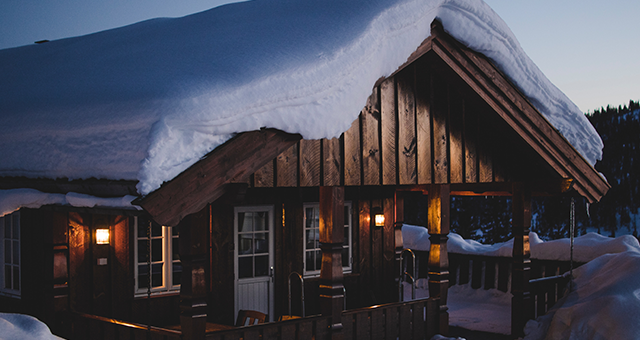 7 Tips To Prepare Your Home For The Coming Winter
Every season brings with it different home maintenance challenges. For many homeowners, their do-list gets longer while the days get shorter. Instead of feeling overwhelmed tackle some of the main tasks this fall so that you can rest easy knowing that your home is buttoned up and ready for winter. Luckily, many of these are well within the average homeowner's ability but if you prefer to call in the pros, it can be well worth the expense.
Given below are the 7 most important must-do fall maintenance projects that every homeowner should tick off their list this season.
1. Clean Gutters and Downspouts
Clean out the gutters and downspouts frequently during fall to remove leaves and debris.
Inspect the joints, and if needed tighten the brackets.
Check to make sure that water is not coming down behind gutters.
Ensure that the water drains properly and does not pool.
If your downspouts do not extend at least five feet away from your house then you can add downspout extensions that cost around $10 to $20.
Replace any worn-out or damaged downspouts and gutters.
You could also install gutter guards to protect the gutters from gathering more debris in the future.
Neglected gutters can cause ice dams, roof and wall leaks, wood rot problems, peeling paint, and pest infestations. Damaged gutters can also be difficult to repair. So, whether you do this job on your own or hire a professional, do not postpone this important task.
2. Seal Air Leaks
With cooler weather approaching, now is the perfect time to check all your doors and windows for air leaks. This will keep cold air out and the heating bills under control. Grab some tubes of color-matched exterior chalk and inspect your home's exterior, sealing up cracks around doors and windows frames, siding, and where wires and pipes enter your home. You can select a day when the temperature is above 50 degrees so that the caulk can flow easily. Add or update the weather stripping and use a foam sealant. This is the least expensive and most important fall maintenance task.
3. Inspect Your Roof
The cold winter weather can worsen roof problems, so avoid trouble by getting your roof inspected. If you have a multi- storey house or a very steep roof be safe by using binoculars instead of a ladder to check it. Inspect for leaks and shingles that are buckled, cracked, or missing. Replace any damaged or missing shingles ASAP. If there are black algae stains on the roof they are just cosmetic. However, if there are masses of moss and lichens it could indicate that the roofing has decayed underneath. Call in a professional for an evaluation. Regular checks and maintenance will extend the life of your roof.
4. Check And Service Your HVAC System
Ensure that your heating system is ready for the winter temperatures before it is too late. Turn on the heat to see how well it works. Is it reaching all the areas it should? Do you get any excessive dusty or burning smells? Schedule an appointment with a qualified contractor to get it checked and turned on for the coming winter. An efficiently operating HVAC system will help reduce your energy bills. If you get an annual maintenance contract then you will be top on the lists for checks and cut the cost of a single visit by 20%.
Also, change your system's air filters. Generally, you should change your system's filters every two months or as per the manufacturer's instructions. However, if not done earlier fall is the right time to do so.
5. Inspect And Clean Your Chimney
If you have a fireplace give it a thorough cleaning and inspection before the cold weather hits. Maintaining a clean chimney is the best way to remove creosote (a by-product of wood combustion) that contains wood tar, organic vapors, and toxins. Removing this from the chimney liner and the smokebox (which usually requires a chimney sweep) will prevent dangerous chimney fires. Clean and inspect the glass door for cracks and also test your fireplace flue for a tight seal when closed. It is recommended that you call in a professional once a year to do a thorough clean.
6. Get Your Yard Ready For Winter
To have a healthy and beautiful yard come spring there are many important projects you need to complete this fall like raking leaves, aerating the soil, fertilizing, and reseeding your lawn.
Also, prune your trees and shrubs to encourage healthy growth. In addition, cutting back dead branches especially those that hang over your home can prevent damage from stormy, windy, or icy weather.
7. Prevent Frozen Pipes
Fall is the right time to winterize the irrigation system, remove exterior faucets, store garden hoses, and insulate exposed pipes. Also, shut off the outdoor water valves before winter sets in. Water remaining in exterior pipes or faucets will freeze, expand and crack. So, this should be top of your priority list in early fall so that a sudden cold wave does not sneak up and cause damage.
Tackling these seven home maintenance tasks can help prepare your home for the changing weather and save you thousands of dollars in the future. So, go ahead and get them checked out of your fall maintenance list to relax and be stress-free this winter.