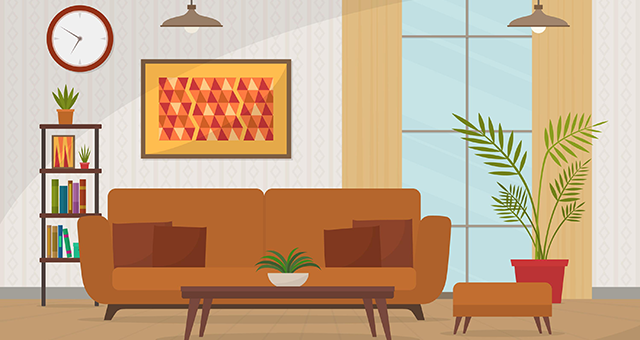 4 Key Home Staging Tips To Make Your Home Stand Out
If your home is appealing, up-to-date, have working appliances, and does not need many modifications, the value will surely increase. Staging your house for sale can also turn into an investment, so it is crucial to make sure you are not breaking the bank when you do so.
With this in mind, let us have a look at the four low-cost yet effective home staging strategies that can make your home more appealing to potential buyers.
1. De-Clutter & Simplify
When it comes to preparing your property for sale, one of the first things to consider is de-cluttering and simplifying. The less you have, the better! Given that you are still staying in your home and require access to your belongings, this might be challenging!
First, put away countertop appliances in the kitchen and clear out the shelves and surfaces, leaving only a few items out for decoration. Even though it does not affect the square footage, this will instantly make the room feel larger and more open.
After that, clean up and organize your closets. Do not simplify your home only to hide everything in the closets and cupboards in the hope that no one would notice (possible buyers will most likely peek into them, so controlled chaos is crucial!)
Consider this an opportunity to get a head start on your move by packing certain items ahead of time. This could include out-of-season clothing (for example, if you're selling in the summer, don't clutter the front hall with coats hanging up). You could also use decorative storage baskets, which can be put on shelves, in closets, or under sinks to hide excess clutter in an organized manner during showings.
2. Depersonalize Your Home
One of the most important goals of home staging is to assist potential buyers to visualize themselves in the home. The easiest way to achieve this is to provide as much of a blank canvas as possible. You want the house to seem stylish and charming, but you do not want it to look like it belongs to you rather than the buyer. Put away any personal belongings such as photos, art, collectibles, ornaments, certifications, and awards. Also, remove anything religious. By depersonalizing your home you can make it appear more appealing and help buyers connect with the property.
3. Rearrange /Remove Furniture
You probably arranged your furniture according to the size of the room, and what makes you and your family feel most at ease. However, home staging is about making the home look its best, not about being practical. Remove any furniture that is unnecessary or does not contribute to the room's purpose. To emphasize space, place the furniture away from the walls in careful placements.
The dining area is often overlooked. A large plain centerpiece may seem the best option. However, it will appear stiff and official. You can group small vases or bowls on the dining table to create a more relaxed atmosphere
4. Do Not Forget Your Home's Outside Appearance
Most people equate home staging with the interior of the home. However, the exterior is the first thing a potential buyer will see, so your property must create a good first impression.
Begin with cleaning the outside of your home, including power washing walkways and driveways, washing windows, mowing the lawn, and tidying any flower beds. Next, if your garden needs some color, consider planting some blooming flowers and check the bushes to see if they need clipping. Furthermore, clean your gutters – you might also want to consider installing a gutter helmet, as possible new purchasers would appreciate not having to deal with gutter cleaning in the future. A well-kept exterior will give buyers the impression that you have taken good care of the property and will make them feel welcome even before they walk through the door.
You could stage the outdoors too. If you have an outdoor barbeque area or a patio, clean the area, arrange some patio furniture and make it look appealing. Potential buyers like to visualize themselves enjoying the amenities on offer.
Conclusion
As sellers, you want to receive the maximum price for your home, and home staging may seem like a good way to do that. However, the trick is to strike a balance between how much you spend to make your home appear appealing and how much you hope to gain in value. The golden rule is to keep things simple at all times.