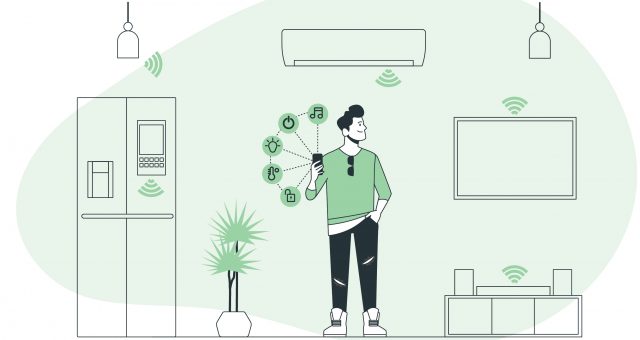 6 Low-Cost Ways to Make Your Home "Smart"
Smart homes are becoming increasingly popular because they provide increased security, cost-effectiveness, control, and automation. While converting your home into a "smart home" may appear to be a far-fetched and expensive fantasy, it does not have to be so. There are quite a few simple and inexpensive ways to update your home to feel more current without breaking the bank. Let us take a look at a few of the most popular ones.
1. Smart Locks
A smart lock eliminates the need for keys (and spare keys!) and allows you to control your home's access from your phone. You can lock or unlock your doors from anywhere.
Also, when someone enters or exits your home, a smart lock will notify you. Furthermore, when your kids return from school, you can remotely unlock the door and lock it again to prevent them from opening it to strangers. Now, that is very smart!
2. Smart Lighting
Another way to make your home "smart" is to install smart lighting. These light bulbs are simple to install and have a variety of features. They can be controlled from anywhere using your smartphone or a smart hub of your choice. Some of these can even be automated based on your specific preferences.
In addition, these lights help you save money as they consume significantly less energy than traditional bulbs and last longer.
Another intriguing aspect of these lights is their ability to turn on when someone enters the room. They can also change the colors to set the mood of the house.
3. Smart Thermostat
A smart thermostat can assist you in lowering your utility bills. You can remotely control your home's ventilation, heating, and air conditioning. It also displays real-time energy consumption. Select one that requires the least amount of programming and is easy to install. Some smart thermostats can be pre-programmed with your preferred temperature and times, while others will even learn your schedule over time and make temperature adjustments.
4. Smart Kitchen
As the kitchen is where many of us spend most of our time, it makes sense to begin there. There are numerous ways to make your kitchen more efficient and a cool place to work in. You can add smart and efficient appliances like a smart oven, a smart refrigerator, and a smart washing machine.
It is also a great idea to have a smart speaker in the kitchen, such as a Google Home or Amazon Alexa. They can help you make a shopping list, find recipes, and even answer questions. Consider including a Waterdrop water filter. It will not only ensure that you are drinking safe, filtered water but also instantly indicate the quality of the water.
5. Smart Security Cameras
Home security cameras are the bestselling smart items nowadays. There are numerous options available that come with their apps or can fit in with your smart speakers. They range from indoor cameras to monitor your children and pets to outdoor cameras that alert you of burglars.
They also have a lot of cool features like sound and motion detection, night vision, a built-in siren, and even face recognition. They all stream live to your phone's app, and some let you save the video feed to an SD card or the cloud for later use.
6. Smart Hub
The smart hub is the icing on the cake for a truly connected smart home. This is a device that ideally controls most, if not all, of your smart devices, such as televisions, thermostats, and lights. Rather than having umpteen apps for all your different smart devices, you will be able to run them all through this central hub, either via voice commands or its dedicated smartphone app.
Now, before you place an order, make sure you have done your research. Select one that is compatible with your other devices and from a company, you already trust so that you can avoid being locked in a slew of other smart device options.
Fortunately, these hubs are inexpensive, easy to set up, and have many interesting features. All you require is your Wi-Fi password and a location to store it. As technology companies improve their capabilities, sign up for any email updates about the device. With everything running through your hub, you will have no trouble controlling your smart, more efficient home.
Try these smart solutions to save energy and find peace of mind while tailoring your home to the specific needs of you and your family.